DICK'S CYL Shop Weekend - March 12-15th -- In-store AND online!
We've had dress rehearsals the last couple of weekends, but this time it's for real! Take advantage of DICK'S Sporting Goods Cambridge Youth Lacrosse Shop Weekend at the Meadow Glenn Mall (3850 Mystic Valley Parkway) location in Medford AND online!
Savings at the Meadow Glenn Mall DICK'S
Use the in-store coupon below for 20% off your family's ENTIRE purchase - lacrosse gear and cleats for your players, summer supplies for siblings, and most importantly, a new pair of Jordan's for grandma. You know she can ball…
If they don't have the sizes or styles that you're looking for, be sure to use the in-store ScoreMORE kiosks to get both the 20% discount and FREE home delivery on the items.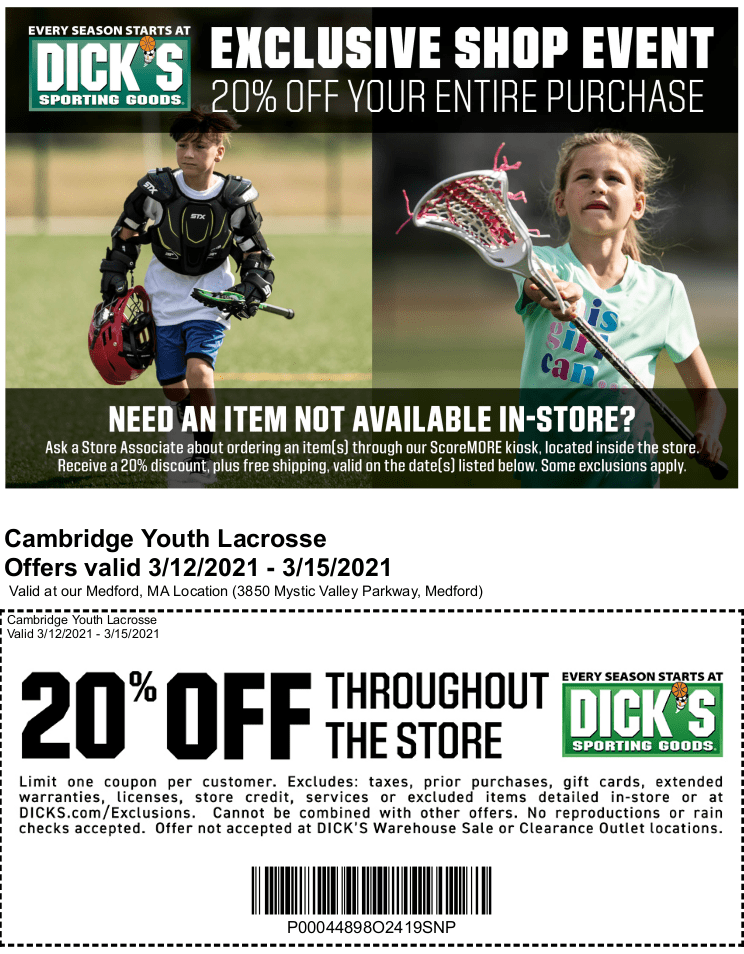 Online Savings
For those that need lacrosse gear or cleats, but can't make it out to the Meadow Glenn Mall this weekend. Here is an online code that players and families can use to shop https://www.dickssportinggoods.com from home: TMSPORTSMAR1215LAX
Note: This code is only valid for lacrosse items and cleats...
Quick Season Update
April is just around the corner and our public health continues to trend in the right direction! We'll be sending out a full season update next Wednesday (3/17) with new information from the City and an outline of our season startup.
Stay Safe and GO FALCONS!
As always, feel free to reach out to us with questions or comments at: play @ cambridgeyouthlacrosse.org.
- Cambridge Youth Lacrosse